We all experience life very differently, but moreover we all express our experiences in different ways. Some are able to talk about their experiences, some write about them and others may even sing about them. Today I would like to share with you a poem that was written by someone who experienced a very sick, mentally ill patient for the first time.
Due to the stigma surrounding mental illness that exists in our society, many of you may think that this is a poem about fear and the unknown, but it is the exact opposite: it is the recognition of the self and the need to be known.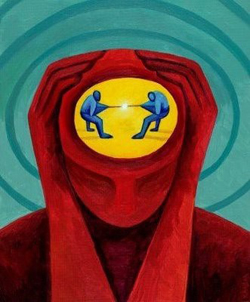 The writer's thoughts
I wrote this piece after talking to a patient and having read Deon's story. I was inspired by the process of healing – that it starts with acceptance; with admitting to the self that "I have a problem and I need help". I was sort of motivated to try and imagine what it is that would push me to that point of saying "help me". For me, it takes strength to say "help me"; inside of us there is a confidence that needs to emerge through that acceptance. I thought that we are not alone in what we are going through – there is the voice of God that whispers loud enough for you to hear it if you are open to it. That sober point is nearer than we think! I thought we can aspire to have that sense of assurance if we speak out and realise that we are capable of achieving anything; we just need to believe in ourselves.
Seeing the positive change in the patient, the passionate drive that Deon had to succeed, really showed me that we are stronger than we think. It takes a positive mindset.
Silent Confidence
You cannot touch me
I feel steel sensations within
You look in my eyes yet cannot say
I walk in small steps
My faith reaches me there
Distractions come, pass me by
I stand still on my weakened toes
My core says I am not shaken
Invasions in my mind swirl and swirl
Darkness clouds all judgement
I am tossed to the deep
Then that silent voice whispers
Rise
Rise
Root yourself in those colors
Colors that embrace who you are
Dance
Dance
Immerse in peace
Release
Release
Leave in assurance of your deliverance
My confidence restored